At RedApple Digital Health, we created an app to enhance your ability to acquire new patients and your ability to engage with your existing patients. Our versatile telehealth toolkit is designed for a wide array of healthcare provider types and specialities and we hope it will benefit your practice.
Here are some common problems we've found healthcare providers struggle with, and our solutions to them:
To help solve the struggle for exposure, SEO, and client outreach we created a platform for you to create Your Public Profile. You will also be listed on our matching page for new patients to find you using our search filters. In addition, we've created a page for you to Display and Collect Reviews. Your reviews page will show post appointment reviews that can be collected from existing patients. You can of course easily dispute unfair reviews and have them taken down.
To help you work remotely we created a space for each provider on our platform to have a A Waiting Room. From the waiting room, you can initiate secure private video calls.
We know you probably already have a calendar, but back and forth between you and your patients can still be a struggle, so we created a patient facing Availability Module and Appointment Setting page. From here patients can see your availability and request appointments accordingly. This page also enhances communication between you and your patients via notifications in case you or a patient need to reschedule or cancel. This will also sync completely with your calendar of choice, so when you put something on your calendar it will block out availability on RedApple and when you confirm an appointment on RedApple it will automatically block out time on your calendar.
Sometimes you get busy and it's difficult to manage communication with all your patients or patients find it hard to get a hold of you, so we created a Chatting and Document Exchange system to enhance that communication.
Your Public Profile
Your public profile will be listed in the matching page for patients. Patients will be able to swipe through profiles based on their filter results. They are able to filter by provider type, specialization, gender, availability, distance, payment options, language, and name.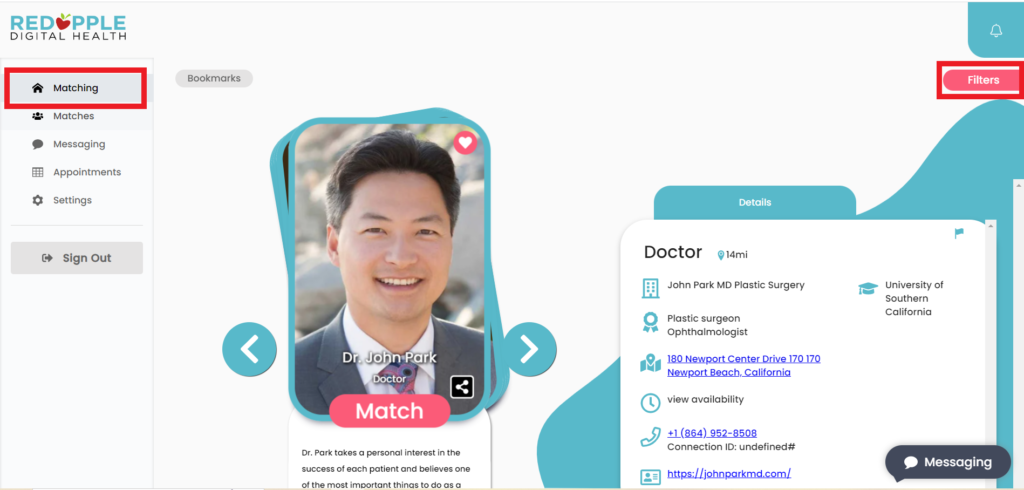 Public Profile Features
Your profile page is unique to you, and with your unique link you can invite your current patients to see your information. Our app allows you to send the link through social media with an easy copy button. Your page will be indexed on search engines to boost your SEO ranking.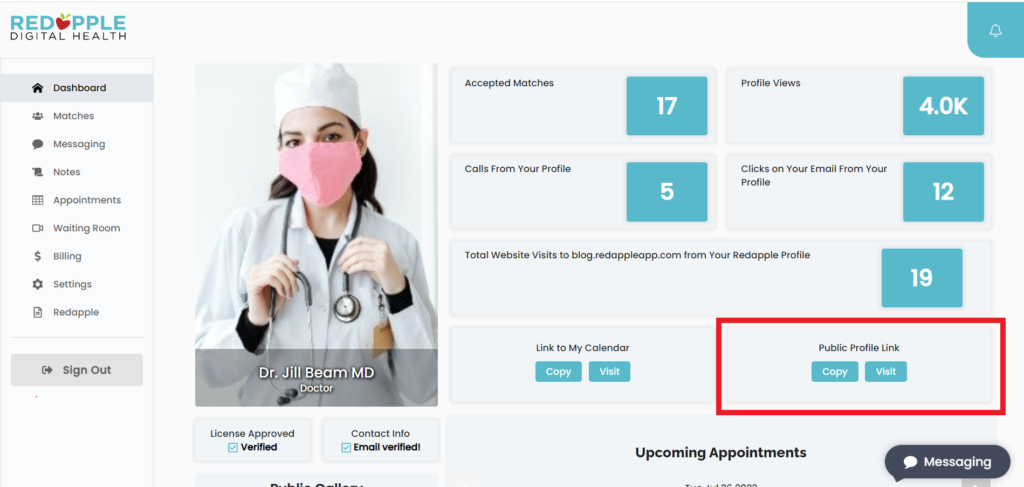 Additionally, you are able to see how many people have viewed your profile from your dashboard along with an analytics widget.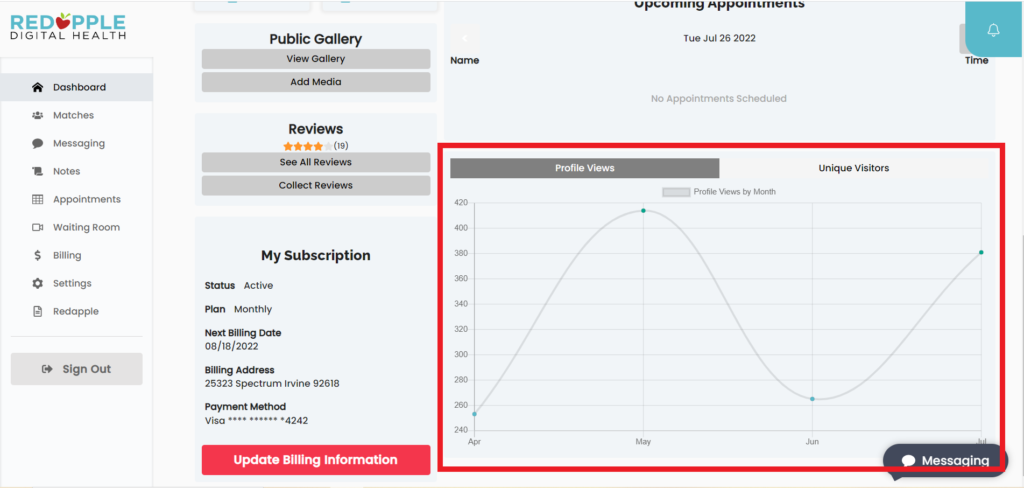 Waiting Room
Your waiting room is there to help increase patient retention as it facilitates meeting with patients remotely through video conference. You will be able to share a static link with your current patients for them to enter into the waiting room.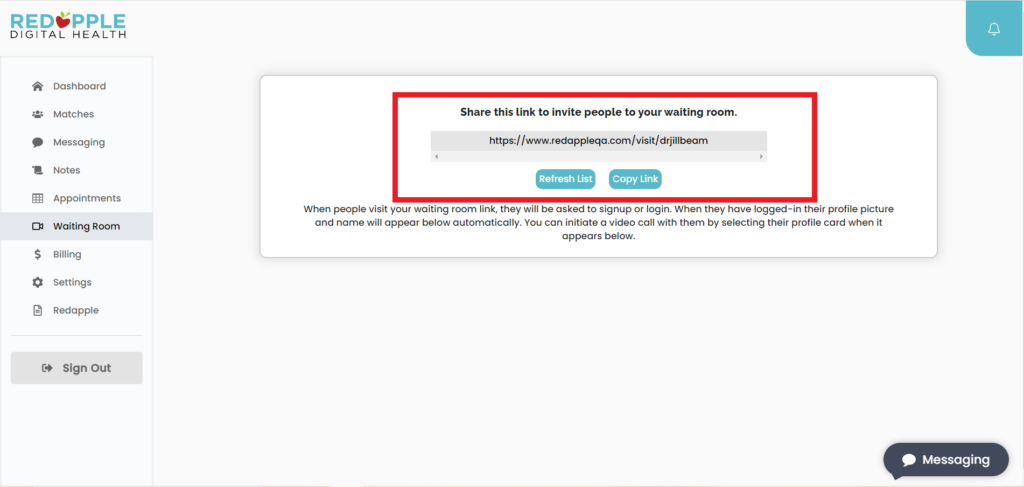 Calendar Features
Through your calendar, you are able to set your availability and schedule appointments. You will also be able to confirm appointments and set special hours.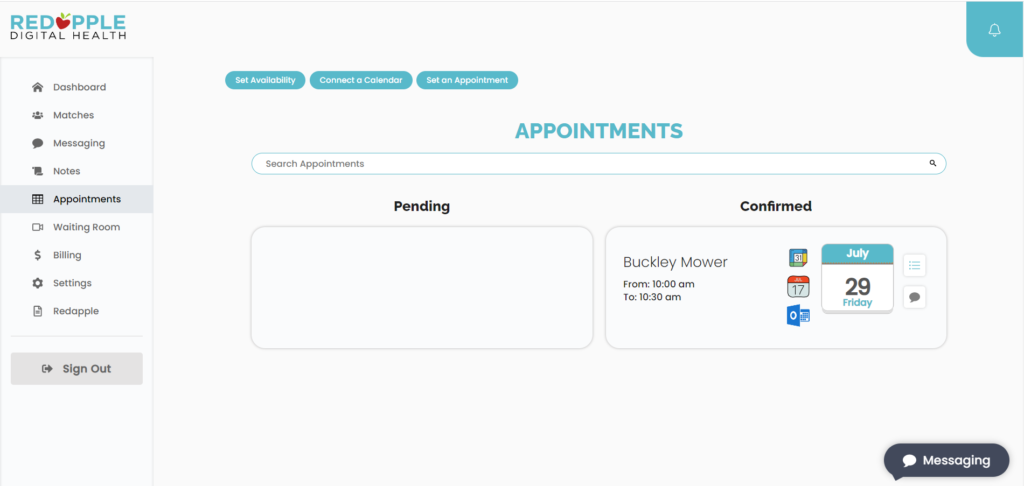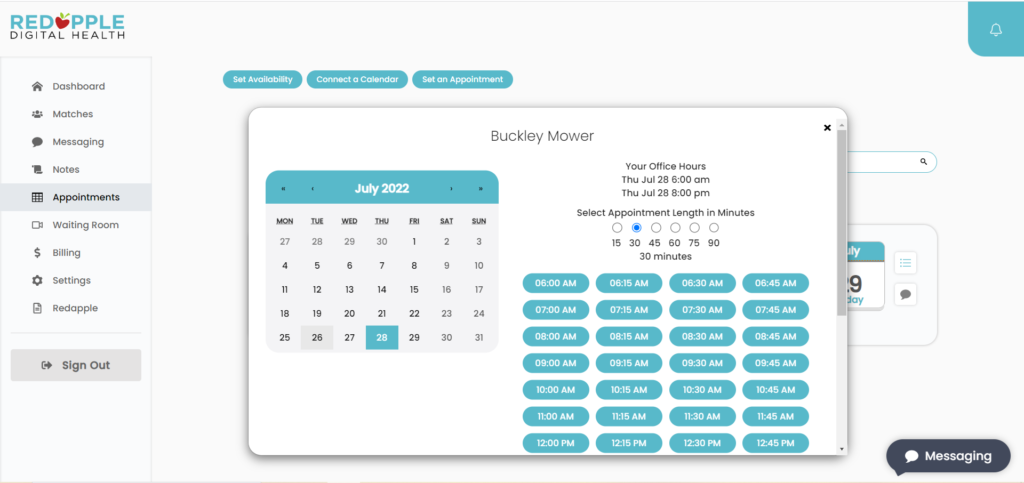 A third party calendar synchronization update will be coming soon. All appointments on your third party calendar will block out the times on our RedApple app. And all appointments made on RedApple will block out time on your third party calendar.
Review Collection Feature
Use our app to collect reviews from your patients. We provide you with a unique form and link to send out to patients after your session with them. This gives the patient a chance to voice how their experience was with you, and to help boost your online reputation. If needed, you can always dispute a review.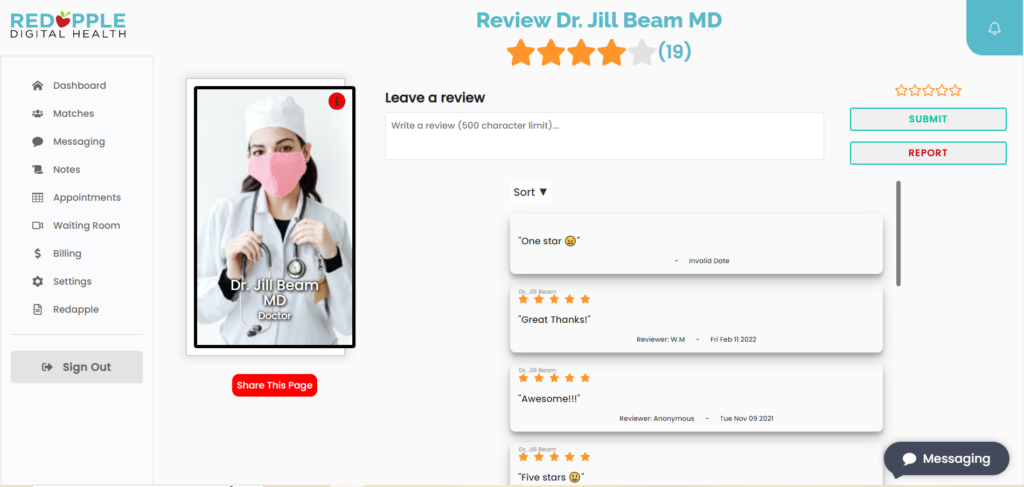 Chatting System and Document Exchange
Our app allows you to keep in touch with patients and to be quickly accessible. Through our chatting system, you are able to securely chat and exchange important documents with your patient. There are also options to video or audio call, and you can see when your patient is active online.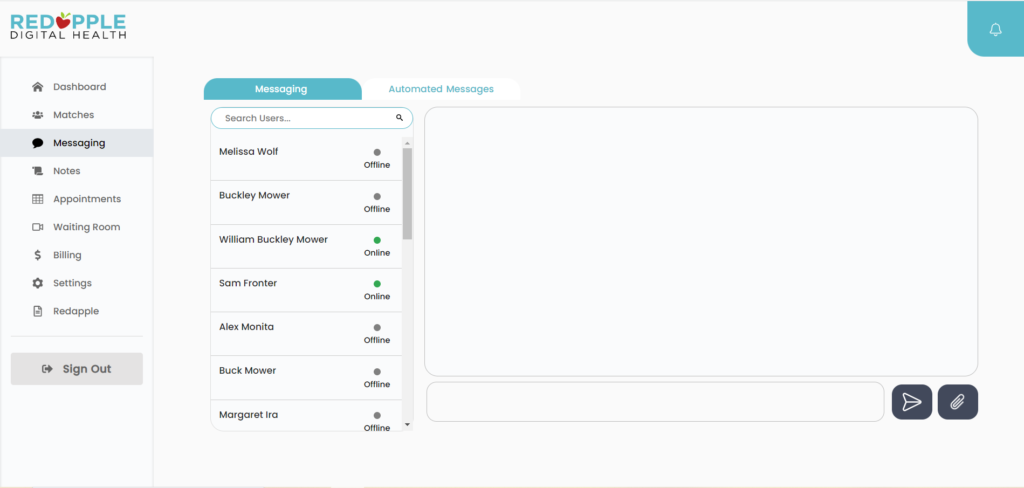 Reach Out
If you have any questions or would like to learn more about our app, please give us a call at (949) 660-7770 or reach out to info@redapple.ai, and a team member will gladly speak with you.